Great Bear Mouldings provides Red and Yellow cedar sourced in the most environmentally sound way that we believe to be possible. Cedar from reclaimed logs and timbers as well as selective purchasing gives you the best quality in the lengths you require.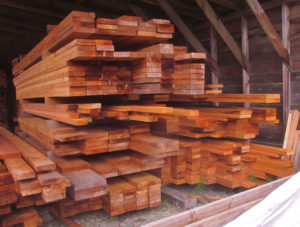 We do not believe it is ethical or environmentally sound to cut long lengths into shorter pieces simply for convenience.  These are luxuries of the past and becoming harder to justify if we want to have cedar sustainable for the future.  
These 2″ clear select cedar shorts in the photo above range from 4′-7′ in length and are shipped across Canada in 500, 750, and 1000 board foot lots. If you are building a hot tub, sauna, patio furniture, doors, windows, panelling or simply require some high grade hobby wood, this wood will not disappoint. All packages are shipped banded and wrapped on pallets for extra protection regardless of distance your shipment has to travel.
Below  are longer length  2″ mixed grain, export grade stock available in  8′ to 14′ lengths. Widths vary from 4″ to 12″. Available in 500, 750, & 1000 bdft lots.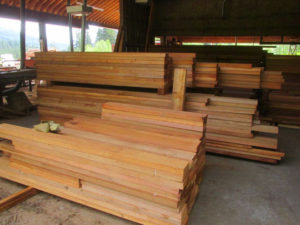 Full length 15′-20′ high grade boat lumber.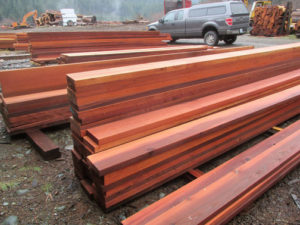 Also available is this high grade 1- 1/2″  cedar as seen below . We sort through and cut out defects.  It is shipped in 12 ft. banded and wrapped on pallets of 500,750, and 1000 board ft. lots.  All cedar is shipped well air -dried.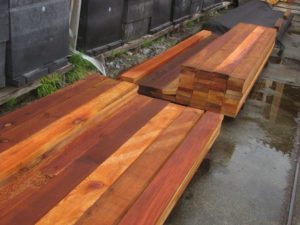 1 1/2″ Clear Stock – 2′ to 12′  lengths 
There is nothing more durable than Yellow Cedar ( shown below)  bevel edge siding! Besides bevel edge siding we can produce any profile you are looking for and is available in clear red or yellow cedar, or select tight knotty. Please inquire for pricing.
For pricing please contact us!