In mill work our experience is diverse and we have gained this knowledge by taking on some projects which many would shy away from as this is what prototyping is all about. No two projects are the same, yet each project some how builds the skill level up another notch to take on the next one.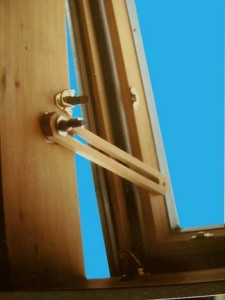 An insulated curb opening skylight with a high R value.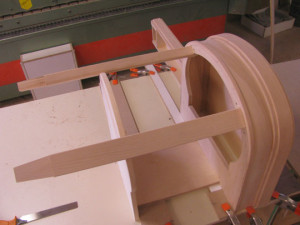 A challenging vanity prototype for the Chateau Laurier in Ottawa built up with numerous laminated veneers of birch. Even the extension to the left flips up so that the toilet tank lid can be lifted and serviced as the tank lid is hidden from view.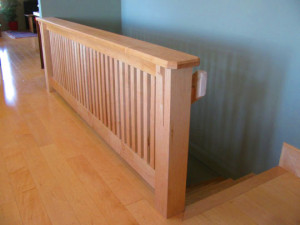 Ahh! , a breath of fresh air.
A simple pleasing solid hard maple missionary style railing to match maple floors with matching stairs to the basement. Built in one complete piece including wrap around posts with hollow box locking mitre joins. The entire unit was installed in less than one hour. Built without any nails, screws, or staples, but only biscuits.  In our shop you will find no particle board or melamine as our approach is to build with quality materials and quality methods of fastening in a contemporary-almost traditional sense.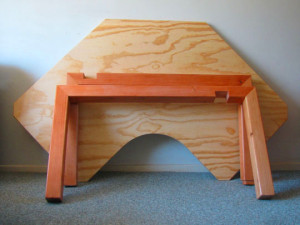 A modern aesthetic 3 pc. L shaped office desk with different length sides to fit into any corner. All pieces lock together without the use of one single fastening. Why fight with all those computer cords when they can simply drop down the back corner where the woodworking join is exposed. Built with Douglas Fir 4×4's and Auraco Ply pine plywood and simply lacquered, a very solid contemporary desk which would suite any timber framed home.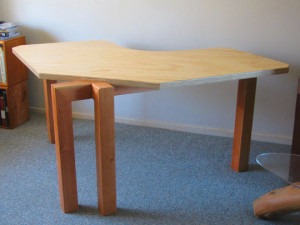 Although contemporary in our design approach we seek beauty in simplicity without unnecessary adornment, but we are not adverse to found objects which catch our eye. This piece of driftwood was found over three decades ago on the beaches of Victoria and it whispered coffee table the instant we saw it.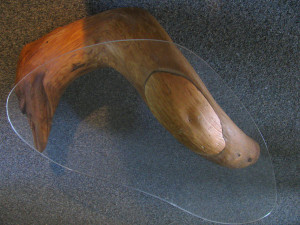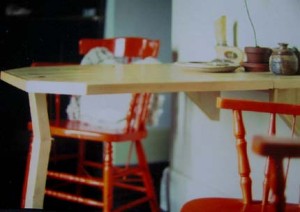 Lift slightly while flipping the post back and this mini table for two becomes a shelf on the wall. A perfect solution when you need to tuck away a table in crowded quarters.
Did we not mention pressure treated foundations some where else on the site? We have pre-fabricated numerous pressure treated foundations with truly unbelievable tolerances that concrete can never achieve. We can also give you a high quality watertight foundation installation which will keep you warm and dry for many decades to come. Come in and talk to us about PWF foundations CMHC approved.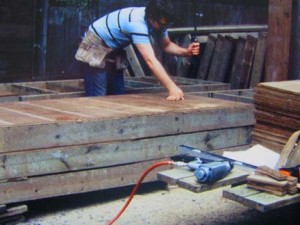 Our shop produces it's products from high quality solid wood or quality plywoods avoiding particle board and melamine completely. Here a Shaker concept reverse cove detail was used to produce a built in writing desk corner wall unit and built in seat chest storage units.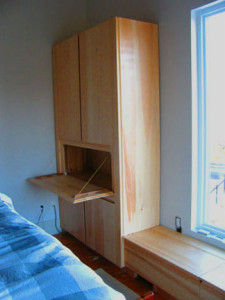 Show me more.