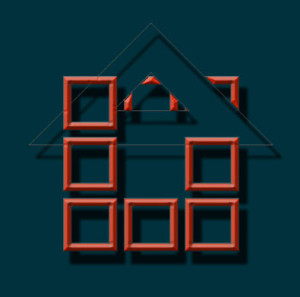 "Forest house" 36′ square, was our first house built from scratch while studying Architecture at Carleton University. Based on the nine square grid this house was hollowed out in the rear surrounding a maple tree. Built in a hardwood forest every tree around within a 50′ radius was surveyed and plotted on a map denoting species and diameter in order to preserve as much as possible from the very start of the design process.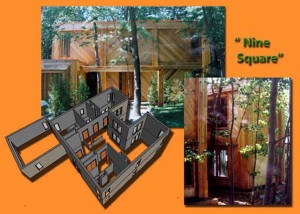 Every house deserves a well built set of stairs. Hollow plywood box beams created the structure for these Oak wrap around stairs and the railings were bent up to spec. by Midus Muffler in Ottawa Ontario.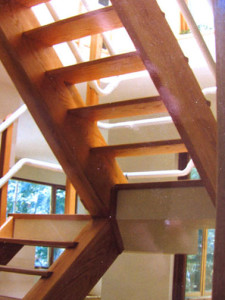 Show me more!
Seemingly 180 degrees different in approach we then built this 24 foot square tower directly across the street. It's entire structure on the inside supported by a post containing all life support systems, a fireplace, with stairs wrapping around, creating an internal continual light shaft as well a ventilating shaft throughout the entire structure. A simple efficient house to heat as well to cool via thermo-syphoning.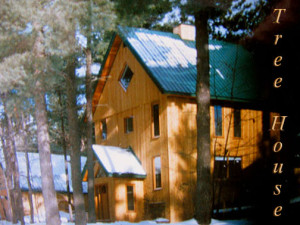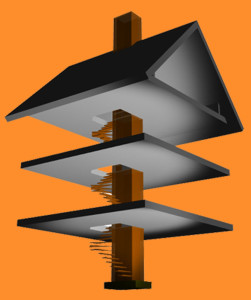 From basement to upper master bedroom on the top floor being four floors inclusive it was all built on a pressure treated wood foundation. It's central support which was a hollow framed  3′ x 4′ plywood box post proved to be totally earth quake proof during two rather severe earth quakes in the Ottawa area. Visually simple in concept it's structural framing is one that is not so simple but a challenge to a good framer who is worth his salt.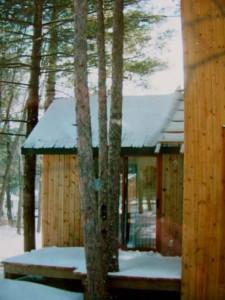 A simple 12′ x 14′ shed addition ( dining room) in the rear included a serene place for a deck under towering pines.
 Looking back from the central support on the main floor into the dining room addition.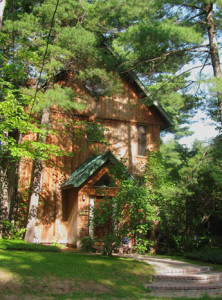 After 30 years it stands graciously fitting into it's surroundings as trees have grown back even more due to it's minimal footprint with simple landscaping. The original purchasers still reside in this pristine structure. A house with stairs is the healthiest house for the cardiovascular system, not to mention the views which were seen from the master bedroom diamond window on the top floor shown in photo below.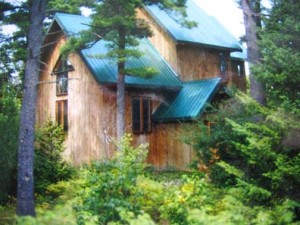 Over 75 trees were surveyed and categorized on this lot before designing and building the house in the photo below.  In the end only 3 pine trees were cut which in turn were cut up and milled to provide all clear pine window trim and baseboards. Simple looking on the outside this house is non imposing but on the inside is quite a different experience completely taking one by surprise, almost Shaker in concept if that can be applied to Architecture and we are sure that it can.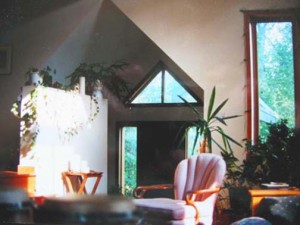 Although built almost completely with wood on the outside as well as being built again on a preserved wood foundation, the inside has been sculpted away in drywall. Tucked away to the left up 3 steps behind the half wall is a dining area separated psychologically by height and a half wall. Yet it is completely private directly overlooking the entrance and great room.