Contemporary cabinets with clean lines is what we are all about.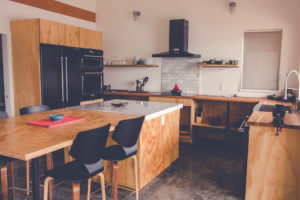 Tight tolerances to make every thing fit create unique solutions. All our installations are garanteed 100% level and square with perfectly fitting doors and drawers.We are not satisfied until you yourself are satisfied. We take the time to install it right, first time , every time as no one likes return trips.
Our cabinets are built without staples, nails, wooden dowells or screws. Only biscuits and glue are used to creating solid construction with the benefit of supporting heavy loads over extended periods of time such as built in ovens. These methods stand the test of time as the cabinets will last the lifetime of Granite countertops or other expensive composite materials. In our opinion it does not make sense to place granite countertops on top of particle board cabinets which will need to be replaced long before the countertop.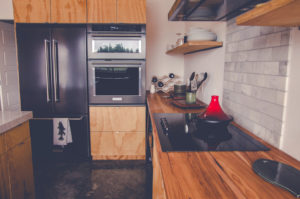 A simple and striking countertop was created from Hickory planks laminated together in place with biscuits. It is then fastened with screws in slots to a solid plywood backing allowing for any expansion or contraction associated with humidity changes. These measures will assure a long lasting warp free countertop for decades to come. Several wiped on coats of a quality Danish oil is all that is required to bring out the colours and beauty of the wood.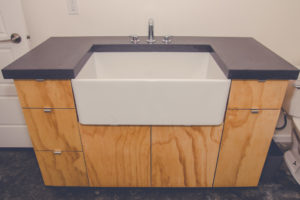 Kitchens and bathrooms are damper environments. Materials such a particle board, the mainstay in the cabinet industry absorbs moisture like a sponge, eventually expanding and disintigrating as it breaks down over time. Not to mention the prohibitive weight of these materials, MDF is the worst offender.  For this reason we do not make cabinets with particle board or MDF. Quality cabinets built with quality plywood being also lighter in weight will stand the test of time in any humid or wet environment.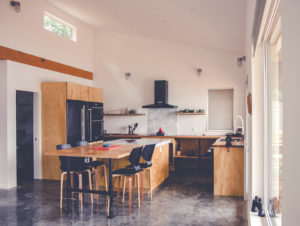 Custom fitted painted black pipe supports for the Island table and countertop in the background compliment the colour scheme.